PERMANENT PREMISES
Higham Hill Muslim Community Trust is serving the local community since 2014. The Trust is holding Maktab which (Teaches Quran and Islamic studies), Taraweeh Salah and Eid Salah every year in Walthamstow Academy. As you are well aware such a facility is much needed in our Higham Hill area.
We have been running this two project for last three years but our main objective is to have our own premises. Alhamdulillah Recently we have found a premise in Higham Hill area, we are in process of getting this premise, if Allah will and everything goes well lnsha' Allah we will buy this premise very soon.
The cost of premises is including renovation around £800,000 (eight hundred thousand pounds).
In order to fulfill our objective, we need our brothers and sisters Duaa's and donation of Lillah and interest-free loan (Qarz e Hasna). For this Noble cause.
lnsha'Allah we will be doing the collection, taking intention of donation and interest-free loans on Wednesday, Ideally, we want 400 brothers and sisters to donate £2000 each. Please contact us below if you would like to help us with Qarz-Hasana (interest-free loans) or contribute a large sum of cash/cheque towards the new premises.
Serving the community since 2014
Higham Hill Muslim Community Trust has been providing services to the local community since 2014. We provide Taraweeh, Eid Prayers, Jummah Prayers, and after school Islamic Classes (Maktab). Following the Covid-19 pandemic, our services now include a community Funeral Service and food support for families in need.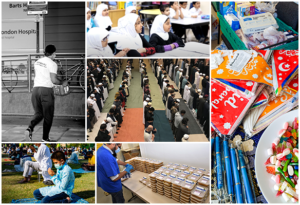 SERVICES
Working for a Brighter Future for the Community
Asif Comms Team
2021-04-08T17:00:37+01:00
With lockdown coming to a close, we need your support to develop the various services we mobilised to support the community. Click the image above to find out more
Asif Comms Team
2021-04-08T14:46:09+01:00
HHMCT held its very first Eid in the Park in 2020. Despite the Covid-19 Pandemic, we were able to organise this wonderful occasion for up to 400 people. Click the image above to find out more